On Thursday April 12th the PLF team went to Koh Ker village to have Khmer New Year Party. Four of my classmates and I went with them to make a video about it. We went by van and it took a long time.  We left Tchey school to Koh Ker school at 7am. We spent 4 hour to Koh Ker school. We were happy to get to Koh Ker.
We went to Koh Ker to film the New Year party and interview the teachers and students. We film the students playing games and dance. They danced to loud music. We asked the students who win the game, "How do you feel when you are a winner?" And we asked the teacher, "How do you feel when it is Khmer New Year?" we were very happy to film and play with the students. It was difficult at first to use the microphone because we never did this before.  We all want to make interviews with the microphone because we look like news reporters.
The PLF team cooked noodles with the chicken for lunch. It was a good lunch. After lunch we took video of the people dancing. After dancing it was the time to walk to Koh Ker temple. We walked through the village and took video of the houses. We took some photo of Koh Ker temple. The temple is big and very beautiful. And we also made a video too, that called Khmer New Year at Koh Ker Village.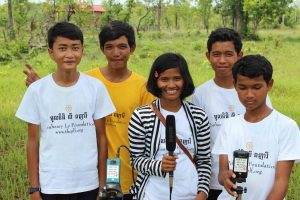 Then we went back to the van to go home. Everyone was very happy with the day but very tired after the trip. Now we have finished editing the video on iMovie. We put it on YouTube and you can watch it here on our blog.
What do you think of our video? We want to know what celebrations you enjoy. Please leave a comment below, we look forward to see your comment because we like to read comment. It makes us very happy. We will share our blog to you.
Reasey, 16, lives in Chey Village and studies in grade 9 at Samduch Ouv High School. She is an alumni of Tchey School and continues to study computers at the PLF Tchey School computer lab. Her favorite subjects are English and Khmer. She loves to write stories and make videos to share with the world. She has recently learned the "Art of the Interview".