Hello, my name is Som Oun. I am one of the PLF video team. In December of 2011, my teammates Sen, Sopha and I made video about water wells in Kok Snoul village. It was the first video we ever made.
Because we put our Water Well video on YouTube, our team has a volunteer coming to teach us to fix the well. His name is Eugene Nelson and his organization is called Blue Heart Charity. He asked us to make a  video about his organization's work in our village, so on Wednesday 25 April, we Skyped with him. We were at Chey School and he was in United States. We talked about how to make a video for him.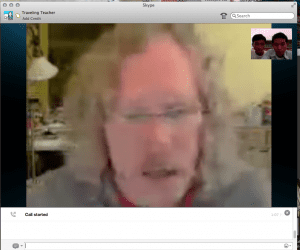 Mr. Nelson  will arrive on Monday 14th May 2012. He also comes to fix some wells in our village. He provides our team with money to make a video for him about fixing the well. We had to skype with him to ask about how long to make the video, what music to put on the video, what to show in the video, and who the audience will be because he is our client.
It was the 2nd time to Skype for us. We were able to see Mr. Nelson face to face and we asked him questions about when he comes in May. Now we are planning for the video by writing the script and brainstorming the video shots. We are happy to make video for Mr. Nelson and to show the activities of fixing the well to our audience.
Som Oun is 14 years old and lives Kok Snoul village in Siem Reap Province, Cambodia. He is in grade 8 at Somdach Ouv High School and an alumni of Tchey School. His first video "Water Wells in My Village" hooked Som Oun on being a cameraman. He continues to make videos as part of the PLF Video Production Team.