Preparations for the 2011-12 school year have begun at PLF HQ in Siem Reap.  With about 2500 students supported by PLF programs, getting ready for the the new school year is a big affair and we are happy to report that we are possibly for the first time ever, ahead of schedule!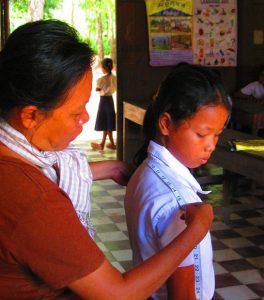 Ponheary, Alin and our summer intern Elizabeth measured all the students in July so that uniforms and shoes could be ordered from the factory. Then we waited for exams to be over to see how many students we had in each grade and calculated the school supplies.
These bundles of supplies contain all the basic necessities for class–notebooks and pencils, scissors and rulers, individual white boards for the younger students and compasses and protractors for the older students.
If you'd like to make a donation to support one one of these 2500 children as they start school, it costs approximately $25 to equip each one with all their supplies for the year and two sets of uniforms and shoes. This Opening Day Distribution is the heart and soul of the PLF's operations; equalizing the single biggest barrier to education for children living in poverty.
In late August the trucks started arriving. The one pictured at left is just the books!
Rewards and incentives also play an important part of the opening day celebrations. When school starts in October, we will award around 200 bicycles to graduating students who are starting secondary school.   While the principle purpose of the bicycles is to provide students with transportation to the nearest secondary school located several kilometers from their villages, these bikes also help to honor what is a very difficult and important achievement.
On Opening Day of School,  we also honor outstanding students from each class –those that are first, second, or third in their classes the previous year– with gifts of congratulations. These gifts include coloring books and story books; toys, stickers and art supplies;  toiletries and toothbrushes for older students. We collect these items all through the year from visiting tourists who stay at Seven Candles Guesthouse and want to stop for a moment and thank all those kind strangers, that stuff adds up (!)  and is very well received. Who doesn't like to be rewarded for a job well done?
We look forward to bringing you news about opening day in October and the new school year. Until then, this is pretty much what's going on at the house!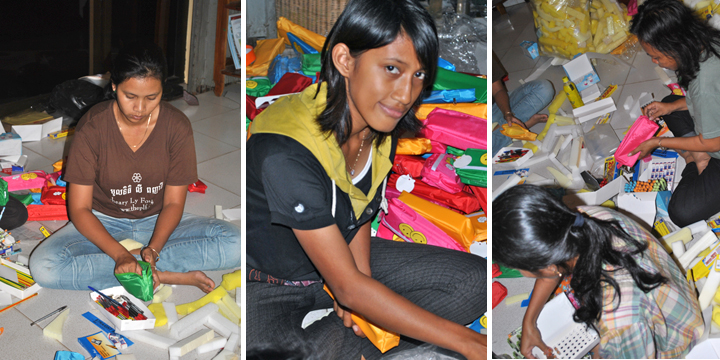 Kalyan, Farida, Ariny and Ponheary working into the night and looking pretty serious about it.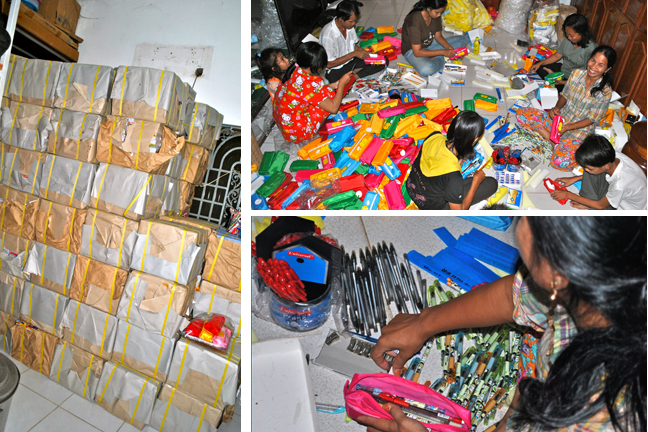 A true labor of love. 🙂
Update Sept 12