By Travis Thompson
Since the beginning of 2013, Knar Primary School has shown tremendous improvement in its capacity to take on new projects.  So, Ponheary Ly Foundation is ramping up programs at the school in these exciting ways.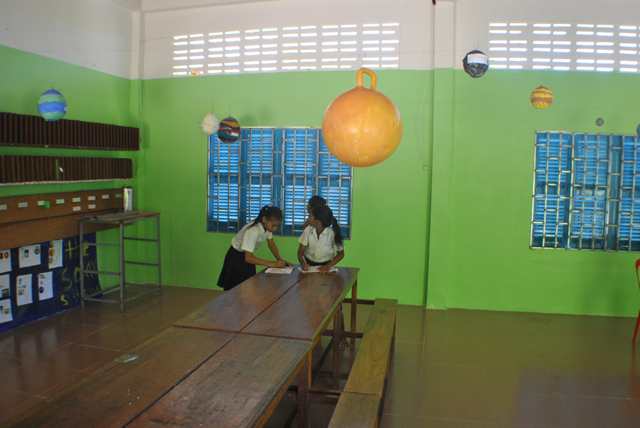 The center of the launch of new programs will be the school's library which underwent cosmetic improvements in June and July.  Volunteers worked with school staff to paint the library green and worked with students to create a paper mache solar system to hang from the ceiling.  This is the setting for the school's librarian, Kaoun, to host a plethora of student-centered activity periods over the summer months.
Kaoun's been spending free time working with PLF staff and volunteers to learn how to teach students to play many different games that have been donated to us.  He's also been learning how to facilitate art projects with students.  Game and art workspaces are set to begin in the next few weeks during the summer break. In addition, electrical teams from Phnom Penh have re-worked the solar equipment and installed new electric outlets and shelves so that part of the new library can become home to Knar's first exposure to technology.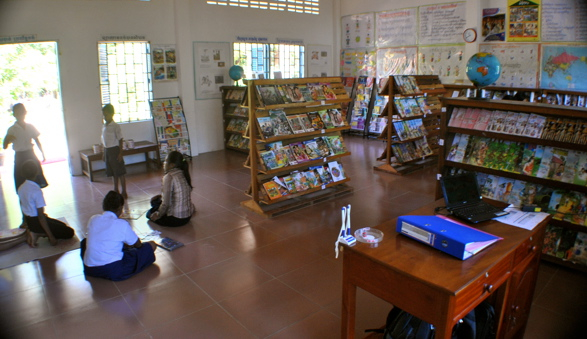 PLF will move the retired One Laptop Per Child laptops from Tchey School to Knar.  The computers are no longer needed at Tchey's thriving desktop lab and Knar needs a trial run, with students first adjusting to using a computer for the first time. The laptops are a perfect addition to the library space, with their intuitive "no teacher needed" interface.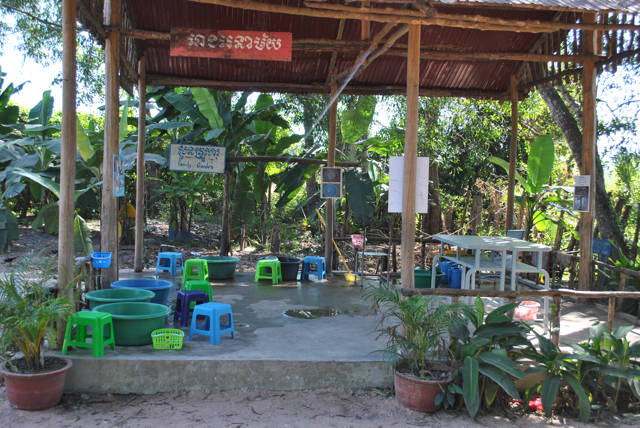 The Foundation's health program at the school has also proven to be a big success as evidenced by how few students have been transported to the hospital in Siem Reap this school year.
This directly correlates to the training of a school nurse and improving the school's nursing /washing station.  Most importantly, the school's breakfast program is much more hearty now with large serving of vegetables and protein for breakfast daily.
Over the summer we are also aiming to repaint classrooms that still remain in boring and very dirty white paint.  The school's old library is painted in a more child-friendly way, as well as the Kindergarten classroom and the new library, but all other rooms remain quite dreary.  We are looking for volunteers to assist school staff with this painting work, as well as helping paint desks that are in desperate need of a new coat. Once school starts, volunteers can lead groups of students in completing three more outdoor wall murals to compliment the one shown below.
As you can imagine, the Foundation is also on the hunt for even more games and books for the library program.
Next school year, as the technology program progresses, we'll be looking to install a full-on desktop lab and expand the solar capacity.
Join us as we race forward at Knar!