July 5, 2012
By Surya Ry, PLF Intern
Volunteers Emily and Katie recently finished a two-week session of teaching an art class at the Tchey School. Both worked with about 20 students in grade 5 divided into two 1 hour long classes. Emi and Katie used their background in working with younger children and developed a program focused on teaching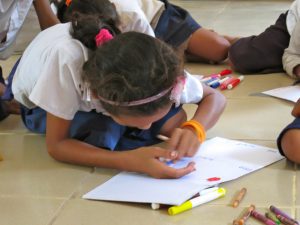 kids the basics of art expression, to exercise their hand muscles, to learn to be creative, original and to be proud of the work they produce. They began with a lot of basic ideas such as the primary colors and the basics of mixing colors.
The two faced a few challenges when they had first arrived intending to work with kindergarten students. The language barrier proved to be more of an obstacle than imagined and it became difficult to communicate the intentions behind their activities. Switching to an art class allowed them to be more self-directed. With that they worked with PLF driver Chamnan who helped translate their daily activities to the students.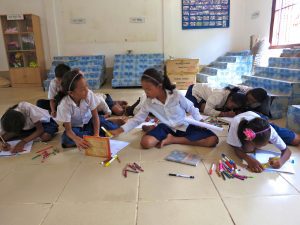 What was great about their program was their ability and the extent to which they incorporated concepts of basic art and sustainability, which is much more productive than just handing out art supplies. In one activity the students went outside and were asked to create a work of art with the materials they could find. This activity promoted the idea of working with the resources in their own environment that were available to them. They also emphasized original work, attempting to avoid teaching by example, and pushed the kids to be self-expressive in their art.
They did an exercise where each student started with a blank piece of paper, had 3 minutes to draw, and then passed the work on for the next student to add to.  Emi and Katie did an awesome job engaging the students in these kinds of activities that are fun and stimulate creative and original thinking.
At the end of the two-week session, the students put their work on a makeshift bulletin board and hung it in the art classroom. With the rest of their artwork they each created personal booklets to take home and be proud of! A huge thanks to Emi and Katie for all their work and we hope you had as much fun as the students!
Update: Emi has recently undertaken a PLF experiment as the first volunteer to live with the students at the Srayang Dormitories.  Emi stayed in Srayang for 9 days and her visit opens up huge possibilities for future volunteers to spend full time with these students, and also opens the Srayang campus to even further development.  We look forward to hearing about Emi's experience when she returns.
Save