Dr. Ros Wilson joined with Dr. Kim Soung Chur and PLF volunteers to screen and document health on the entire student body of Koh Ker School. The most satisfying news for us was to learn that out of just over 200 children, we've only got eight of them scoring low on the malnourishment benchmark. That's a big improvement from where they started and is a true testament to the value of a good breakfast program.
Health Screening at Koh Ker Primary School
by Dr. Ros Wilson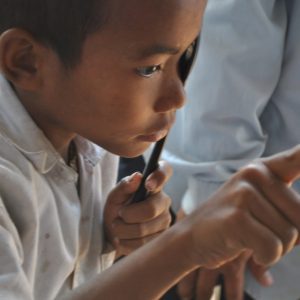 On the first weekend in March we traveled to Koh Ker and worked with the primary school staff and Dr. Kim to run a health screening clinic. Dr. Kim is a health worker from the nearby town of Srayang, who works with the PLF to keep a watchful eye on the health of the children throughout the year. It's important for a school in such a remote location to have access to healthcare support and Dr. Kim does an excellent job caring for the students with limited resources.
The purpose of the health screening clinic was to document key measures of each child's growth, development and general health status, such as their weight, height, Z score (a measure of malnutrition), eyesight, temperature, heart rate and blood pressure. It's also an opportunity to identify any issues that need to be addressed immediately or require further follow-up.
[portfolio_slideshow timeout=5000 include="2015,2014,2013,2012,2011,2010,2009,2008,2007,2006,2005,2004″]
During the course of two and a half days we reviewed every student and staff member at the primary school in Koh Ker, just over 220 people. We also assessed the 11 students who are now at high school in Srayang, along with the two staff at the house where the girls live. All the children and staff were also given a course of de-worming medication, to help address what is an ongoing problem in remote rural areas.
While we found that most of the children are in reasonably good health, we identified a few whose weight and height suggest they need further nutritional support; we also treated one young boy with night blindness, a consequence of Vitamin A deficiency. Several children were unwell with respiratory and gastrointestinal infections that required antibiotic treatment. Finally, one boy was treated for a significant injury to his foot (a partially amputated toe); and another for a severely bruised leg resulting from an accident whilst out chopping wood in the forest.
Each child and member of staff has been allocated a health record booklet in which information from the health screening clinic was recorded. This will be used as a baseline from which to monitor the children over time, ideally by conducting further screening clinics at six-month intervals.