By Jamie Stafford
2014 was my 7th year coming back to Cambodia and volunteering at the PLF. Although it was a short visit, much was packed in, as always, and I came away yearning for a longer visit next summer.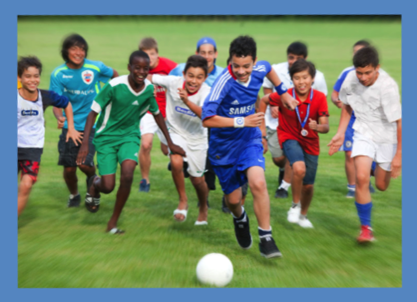 My visit began at Tchey School for an afternoon that will live long in my memory. After the usual warm greetings were exchanged with familiar and new faces, we began this year's volunteering by providing an ice-cream treat for every student.
For some, they had never seen ice cream before.I will never forget needing to show the younger children how to open the wrapper, while coaching others on the need to eat the ice cream now. The temperature was fast approaching 38 degrees centigrade. In hand signals, I tried to explain that ice cream could not be packed away and stored in this heat, but needed to be immediately consumed.
Soon after, I headed to the football field. Three years ago, I helped fund and start the Tchey football team, after watching clearly able boys kicking a can in an overgrown field of mud adjoining this rural school.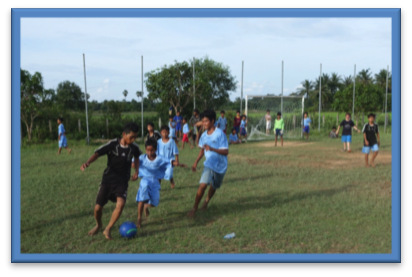 For so many children around the world, whether it is in the wealthiest or poorest countries, sport offers an outlet of togetherness and relaxation, team building on a platform that everyone understands. While my Khmer doesn't really go further than the words please and thank you, football is a language that almost everyone can understand.
Three years ago,  admidst 'two dimensional cows' and 'streams of uncut grass', even the most fervent believer, might have wondered whether Tchey could really have a competitive team.
This is the magic of the PLF, giving volunteers the opportunity to make a difference in one's own way, and for me, this meant sharing my passion for football.To say that much has changed since the idea of setting up something resembling The Tchey School football team would be a vast understatement. I was like a proud coach for a winning team at the World Cup as I watched the transformation over the last year.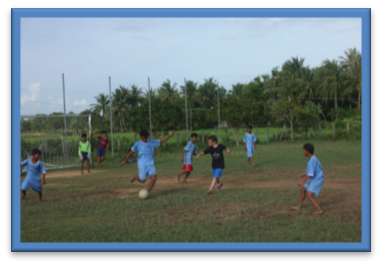 While the grass still could use a little pruning here and there, progress on the field has been astonishing. Walking out onto the pitch, the Tchey school coach had already organized two games between the girls and boys A and B teams, respectively. As both teams played out in their new 'Tchey School' customized kits, kicking a good quality football into goals with netting, I soon realized that this game went beyond the superfluous nature of the equipment. The skills that these boys and girls were exhibiting boarded on the unrecognizable.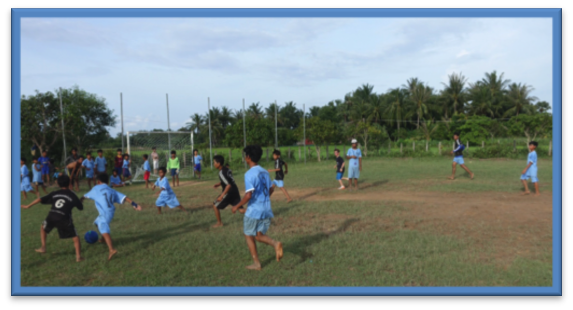 Gone were the days of constant scrumming around the ball, astray passes flying around and constant giggling when anyone fell over. Now I was standing watching an organized game of football that wouldn't have looked out of place anywhere in the world. To my delight, there was both tactical awareness and composure displayed on the ball by almost every player. Yes, of course there's still much work to be done but the development has been remarkable and the shouts of joy and high fives as respective sides scored goals, made me realise even more poignantly how much every child deserves these experiences in life.

Their progress on the field has also brought local recognition and success. Before the PLF, Tchey school children had no uniforms, and were constantly hungry. I smiled inside as the Headmaster and team proudly showed me their slew of trophies and proudest achievement of all, a regional championship won by the boy's team.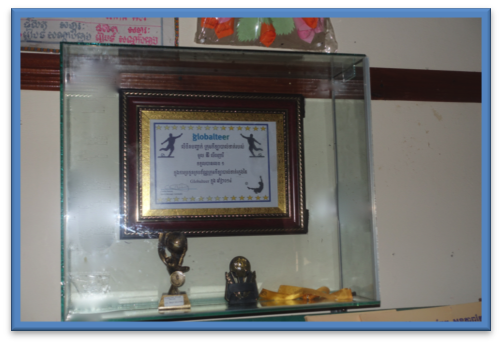 Seeing all these awards and accomplishments, I left as I do every year from Cambodia, knowing that I have grown through this experience. Each and every day, the PLF makes a difference and the progress each year is nothing short of amazing. The football team at Tchey is but a microcosm of the many successes PLF has in each of the schools that they support.
Football will always be my shared language and I am proud to be a part its transformation at Tchey.