by Gillian White
Big projects are underway with our computer programs in preparation for the return of students on October 1st. Our computer teacher, Sotheara Ly, who has been teaching at our Siem Reap lab for the last year, has led our improvement of the Tchey School computer lab. She's updated Microsoft Office, the Khmer typing software, and anti-virus programs.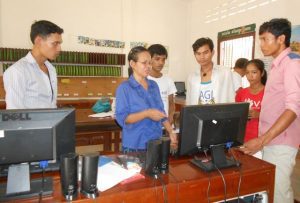 As part of our Tchey computer lab improvement project, Sotheara has also been training two new computer teachers at Tchey. Kol Vireak and Sal Chamreoun will be working together on the Tchey computer lab teaching team.
Vireak is a Tchey and Samdach Ov High School graduate and just completed his bachelor's degree at Pumen Phnom Penh University. He's been studying computers for more than a year and is excited to begin his teaching career at Tchey.
Sal Chamreoun is a Knar school and Banteay Srey High School graduate. He's a member of PLF's first high school graduating class and has been sponsored by PLF for a while. His family is very poor, as his parents cannot work,
and the family relies solely on his older sister for income, so his new job is a relief to him and his family. At 19, Chamreoun will be one of our youngest teachers, but with youth he brings energy, enthusiasm and know-how to his new job.
And Srayang students Dieb and Ravuth, who many PLF fans will have seen in various Facebook and website posts this summer, have been aiding Sotheara in all of these updates. They've both been working hard every day in the computer lab as well as have been taking English classes, which helps with their computer skills. We'll miss them as they head back to Srayang, but are excited to see their teaching skills in action as they teach their classmates at the new Srayang dormitory computer lab.  As we like to say, if you can't find a teacher, make a teacher. Sotheara has equipped these two with the skills they need to bring tech literacy to one of the most poor, rural parts of the country.
.