by Caroline Stafford
This July was my third year working with the Ponheary Ly Foundation. I wanted to fuse my passion for theatre and the performing arts, so I asked Ponheary if we could try a first ever theatre event with students at Chey School.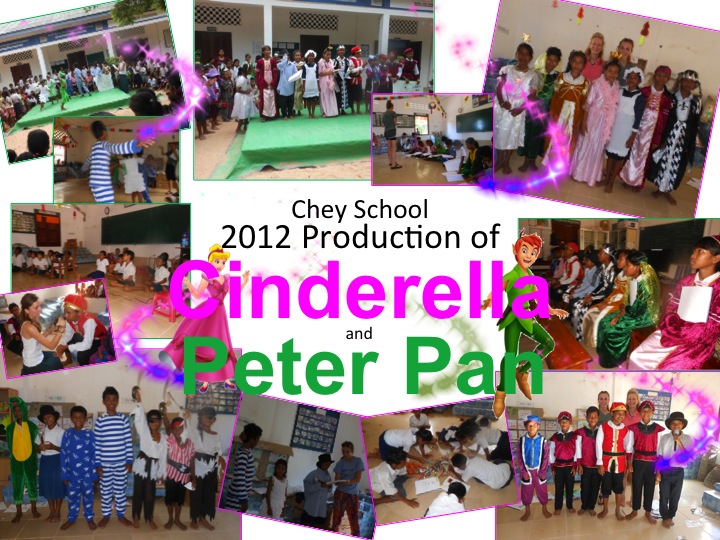 Researching appropriate scripts turned out to be surprisingly challenging. I wanted to find stories that would interest the kids, but also find scripts that had simple language and enough parts for the 30 or so children taking English classes at Chey School.
Two plays caught my eye: Cinderella and Peter Pan. Short but sweet, with multiple roles and scenes, the plays seemed perfect. And thus began my never-ending trawl through eBay for appropriate costumes.
The challenge on the first day of teaching was selection of roles. This of course was no normal audition process. I quickly realized that parts were best selected not on the basis of acting talent, as none of the children had been exposed to theatre, but more through looking at their English ability and fluency.
Costumes were tried on to a mixture of gasping and giggling. I loved the moment when Tinkerbelle admired her wings with awe while Cinderella could not resist dancing around her friends in her pink princess gown. Yes I have to admit, some of the costumes were swimming on these children's rather small figures, but none of that mattered. Only one look came across their faces, and that was of pure delight. So it seemed appropriate that each rehearsal should be done in costume.
As rehearsals continued, I soon discovered that children were at completely different competencies with their English. However that did not stop them working hard. You could tell how much effort they were putting into the plays. When they did not know how to pronounce a word correctly, they would try and try until they got it right. Their sheer determination produced a huge wave of confidence both in themselves and others.
But the greatest challenge was to encourage them to act in character. Cambodian children are naturally quite shy so it took some extra coaxing to get them to play their roles in character. To familiarize the children with the story, I brought over the relevant DVDs and one day we followed rehearsal with the first ever showing of movies at Chey School. Huddled in a room munching popcorn (cooked in a wok that morning at the Foundation), the children were absolutely captivated by Disney's magical version of Peter Pan and Cinderella. Laughing and giggling in all the right places, I knew now that they were armed with a good understanding of the story.
One of the most amazing things to witness as time progressed was how much each and every one of them improved. By the final rehearsals, they would keep asking me to perform it 'one more time!' The class with better English even managed to memorise all of their lines. After rehearsals, we would work on picture boards for the scenes and learn new vocabulary words like: play, audience scene, prop, actor and script.
We were now ready for the live show. Charmingly, the headmaster at Chey had organized a make-shift stage and Ponheary found some wonderful face paint allowing us to take the live performance to a new level of excitement. A plethora of students from Chey gathered around for the live show. The fact that most spoke no English did not matter. The children were terrific and the audience laughed and cheered. We had done it together-created the first live theatre performance at Chey School.
This project was an incredible experience. Thank you to Ponheary for allowing me to share my love of theatre with these wonderful, bright and absolutely endearing children. For them, it was a new experience. For me, it was a moment of sheer happiness. As I watched the children performing their plays I knew we had touched each other in a very special way.
The Ponheary Ly Foundation is an amazing cause in looking to enrich the lives of rural Cambodian children. What we take for granted in the West is a new and wonderful moment of discovery. Volunteering first hand and witnessing direct change make working here the most fulfilling experience one could ask for. My time at Chey School this summer was incredible, from the start to finish, made more so by the joy the children and I experienced together.
Caroline Stafford
Age 16
London, England