Sothy is one of the first PLF students to graduate University, a fantastic achievement. Here is his story, in his words. 
"Hi I'm Sothy. Nowadays I'm an English teacher at Tchey Primary School. I recently graduated from PUC (Pannasastra University of Cambodia) with a major of International Relations.
I have three siblings, including me, and unfortunately none of them finished grade 12. Only I managed to reach University. Because our family was poor, my older sisters decided to stop studying and went to work to support our family.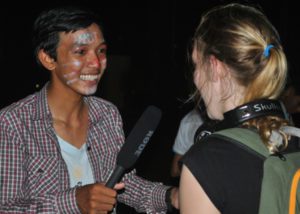 When I was in grade 9, I thought that my future wouldn't be any different from my sisters, but luckily I was supported by the Ponheary Ly Foundation, and also was motivated by my parents, especially my father who didn't have any education himself and didn't know how to read and write. He told me how difficult it was to be illiterate.
Personally, I really wanted to get a higher education and I was hopeful while I was in grade 11. I began to understand that education could make my life become brighter; moreover I could use that knowledge to improve my family's life too. In that same period, I was really interested in technology and social work. An idea came into my brain that technology might make the world better and if I have no education how can I achieve a higher position and how could I compare to other people?
When I finished grade 12 my family and I were really proud. During that time, I was passionate about continuing my studies but the possibility seemed unlikely. My relatives really wondered about me, "Why do you still want to study? Why don't you stop and get a job?"
I just thought that if I stopped during that time I would only be a hotel worker or sales person in a shop. However, if I keep investing in my education I might get much better opportunities in the future.
My dream came true when Ponheary Ly Foundation, who supported me since grade 6 said, "Please find your favorite university". It was like the tears fell down my cheeks and I could hear myself breathing so hard, because of those big words from her mouth. I didn't even think that I could keep going. Starting from that time I promised myself that I will spread my knowledge to other people, maybe not the whole of Cambodia, but at least in my community. I normally share the benefit of education to my students and others who ask me. I tell them that kids must stay in school even if their family is very poor, because education is the best way to change their lives.
Now that I'm finishing University my goal over the next few years is to achieve a Masters degree. If I'm very lucky maybe I could do that abroad, but if not I certainly want to do it in Cambodia's capital, Phnom Penh. Education never stops; we're learning our entire lives. I'm ready for new challenges ahead."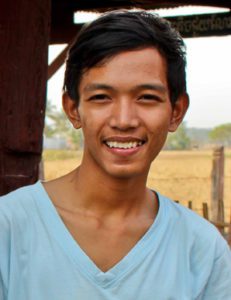 Our University program is growing year on year, which is a testament to the success of our high school and early years programs. Sothy is a perfect example of these successes. He is a wonderful role model to all following behind him. He's always had such an open and creative mind. He's willing to try new things and to think outside of the box. As well as being a University student in our program, he's one of our most innovative English Teachers. He runs the Chess Club at Tchey School, and started a tablet class for young kids in his community. On top of that, he also helped his family to start a small copy shop business! We're immensely proud of what Sothy has achieved so far and of what we know he'll go on to achieve in the future.