Volunteers Jamie Stafford and Jack Reynolds describe their experience helping students at Tchey School establish a football team.
Tchey Football Team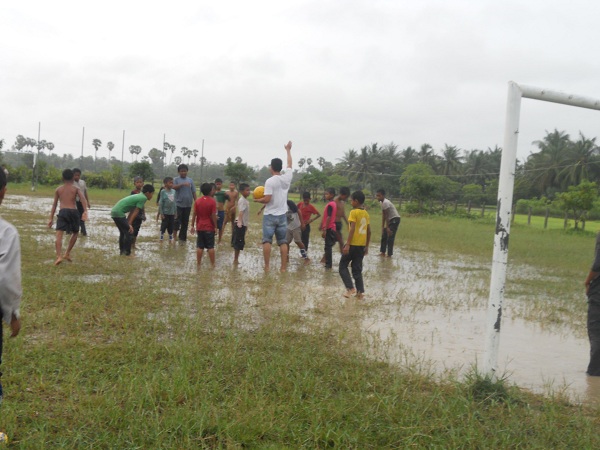 At the start of summer 2011, I travelled to Cambodia to help out at the Ponheary Ly Foundation, making the journey halfway around the world with my family and close friend, Jack. After a night of much needed sleep, we set out to Tchey School in the hope of being able to string together some sort of sport/soccer programme.
This has been my third year as a volunteer at Tchey, and the school had progressed to the point, where a sports program might just be possible. On surveying the school on arrival, what we found was reams of uncut grass, wandering two-dimensional cows and kids who played (when there was a ball) in their school uniform with no shoes. It was clear to us that organising something like this would be a huge project.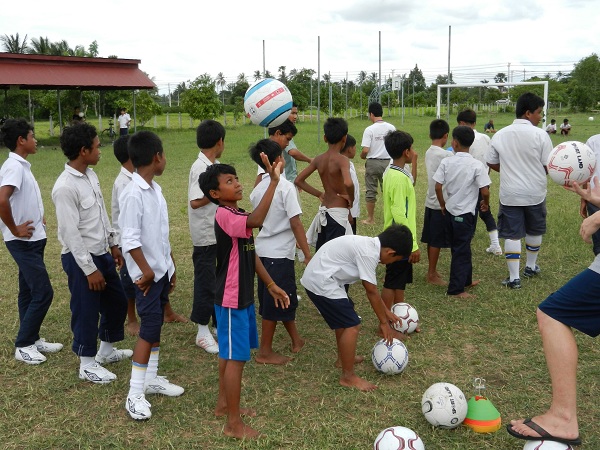 Our first step, with the help of two Tchey graduates and two Tchey sixth graders, was to design a shirt that could be worn on a match day. We wanted English writing on the shirt with the Khmer translation below. We also wanted to add a logo or badge that emphasised the Angkor Wat region surrounding Tchey School. In addition to the shirts, we also realised the importance of proper shoes for the kids. Shoes were especially necessary in the summer months because it was the rainy season in Cambodia and the kids had great difficulty kicking around a water soaked ball with their bare feet. Furthermore, the boys were cracking toenails and bruising their feet every time they played. We figured to build a proper football team, we needed proper equipment and this meant kitting out each boy with a new pair of football boots.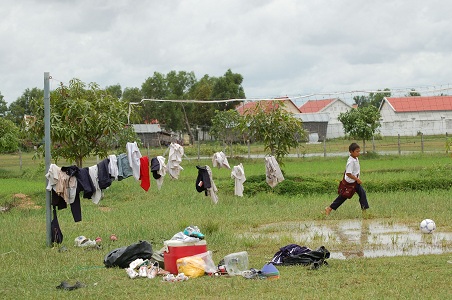 We also intended to coach the boys for the time we were there, but we needed a longer-term solution, someone wh0 could keep the program going after we left.  By chance, we found that working for the Foundation in the office was a former member of the Cambodian National Football team whose dream as it turns out was to train boys in football. Truly a sign that this was meant to be!
So with Alin's help, we gathered all the boys who showed an interest in playing this year and measured their shoe sizes. In total we had around 40 boys. With sizes in hand, we headed to a local sports outlet (no more than a closet size shack, where items were sourced from Phnom Phem) and purchased in addition to shoes and uniforms, cones, goal-nets and training bibs, and not to mention whistles for Alin and I. With trainer, kit and boys, we started to realise the potential of the programme.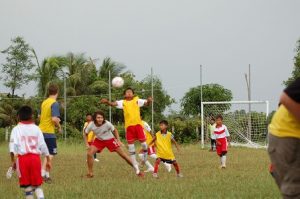 But the project really started to take shape, when Alin, Jack and I held our first training session with the new equipment. It was an instant success. The kids wasted no time quickly lining up in front of Alin, and took well to the new drills, appreciating some organisation to their training sessions.
With Jack and I inputting ideas and thoughts for new techniques and tactics, Alin would seamlessly translate the concepts into Khmer. The majority, if not all of these kids have never had a football training session, and many had not even really played before. What was amazing to Jack and I was not just how coordinated they are, but how they seem to have a natural speed and agility in handling the ball. It was no long before the kids looked as if they had had training for a number of years.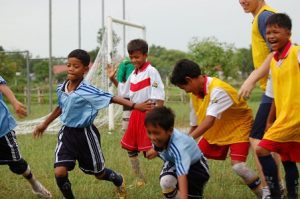 The day of the first (in the history of the school) football match finally took place. The headmaster had moved several wooden seats to the side of the pitch (as a group of other students and volunteers came to watch). Across a water soaked pitch in the rain, the game was played, to enormous cheers from all when three goals were scored.
It was incredible to see the kids jump for joy, when each goal was scored to and hear the laughter and screams of our small band of supporters.  It  confirmed to us that the Tchey football team, with the continued support of Alin and the Foundation, has a future, not just in the Siem Reap region but also in Cambodia as a whole.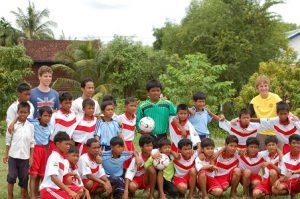 But most of all, was the impact it had on Jack and I — bringing happiness to others and fulfilling dreams is just an incredible and really hard to describe experience. I never thought I could feel more proud or happy inside myself at the sight of the Tchey Football Team coming to reality.
We agreed that Alin would train the boys three times a week and matches would be held on weekends; volunteers for the Foundation can continue to provide input, support and just good old match play to help us, and the Foundation keep this program alive.
Jamie Stafford and Jack Reynolds are both 17 years old.